Eingezwängt zwischen Arbeit und der virtuellen Enterprise 2.0 Konferenz in Boston auf meinem Desktop finde ich etwas Zeit zum bloggen und nutze das zum verlinken: Zum einen auf die Videos in denen Stefan Pfeiffer, Peter Schütt und René Werth auf die Lotusphere 2010 zurückschauen – mit besonderem Augenmerk auf den angekündigten Roadmaps und Initiativen wie Project Vulcan:
Natürlich ist Project Vulcan zuallererst einmal eine Vision, ein Blueprint, eine Roadmap – aber OK, ohne Visionen und Pläne ist ja alles nichts … im Ernst, die Integration verschiedener Technologien und Clients auf Basis offener Standards wird ja nachgefragt – zum einen weil die Geschäftsanforderungen eben genau das fordern (übergreifende Kopplung und Abstimmung von Anwendungssystemen und Geschäftsprozessen, Einbau von kollaborativen Funktionalitäten an geeigneten Stellen), zum anderen weil die Cloud bzw. das Aufkommen neuer Endgeräte (Smartphones, Blackberrys, iPads …) miteinander verbundene Plattformen fördern: "[…] blend collaboration, social, and business applications into a useful, productive experience, and to deliver it in Lotus Notes, a browser, and mobile devices", wie Chris Reckling hier kommentiert).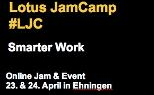 Project Vulcan wird so sicher auch auf dem kommenden Lotus JamCamp diskutiert, das heute offiziell angekündigt wurde:
Auf dem JamCamp diskutieren Vertreter aus Unternehmen und Verwaltung, Digital Natives, Studenten und Professoren sowie Business Partner und IBM Mitarbeiter, wie Web 2.0 Technologien, Cloud Computing, Enterprise 2.0 oder Open Source den Arbeitsplatz von heute und morgen beeinflussen und verändern:

– Wie sieht der innovative Arbeitsplatz der Zukunft aus?
– Was heißt Enterprise 2.0 aus Unternehmenssicht und aus Sicht der jungen Generation?
– Wie bette ich Social Media-Tools wie Wikis, Blogs, soziale Netze, etc. organisatorisch im Unternehmen ein?
– Wie sehen Erwartungen, aber auch Anforderungen der Digital Natives aus, wenn sie in die Berufswelt einsteigen?
Ja, ich wusste davon schon etwas früher – der Grund dafür ist dass ich das Team um Stefan Pfeiffer bei der Organisation des Events unterstütze. Das hier nur als erster Disclaimer und zur Offenlegung der Beziehungen, ähnliches habe ich ja bereits zur Lotusphere geschrieben.
Ich werde daher in den kommenden Wochen noch den einen oder anderen ausführlicheren Beitrag zum Lotus JamCamp schreiben – heute will ich nur meine Freude ausdrücken dass sowohl Nicole Simon als auch Jörg Kantel mit Impulsvorträgen dabei sein werden. Mit Nicole habe ich das bereits bei der LeWeb besprochen, mit Jörg erst diese Tage – und es ist sehr schön dass die beiden an Bord des #LJC sind.