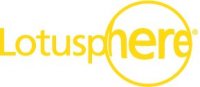 More write-ups and notes pile up – so I will give you an roundup of my day 2 and 3 appointments:
Q&A with Uffe Sorensen, Lotus Messaging & Collaboration Director, CEEMEA

We talked about the different selling approaches it needs – whether you're in an emerging (BRIC etc.) market or if you're in western economies. Most interesting that even when some common traits exist, emerging economies are leapfrogging the western hemisphere. Employing new and fresh technologies is obviously a lot easier if you don't have a legacy heritage to protect and defend (plus as the price for data transmission is dropping all over the world, SaaS offerings are becoming more attractive – even when on-premise models have their place for some time. I guess that Lotus is well positioned – given the hybrid model of on-site and cloud-based that they seem to allow).
On the topic of social software in the enterprise adoptions we've shortly tackled the importance and role of different local cultures – but Uffe sees that new modern generations, that are accustomed to the new tools and ask for them are a fact all over the world. Also he thinks that the common meme of "the US is more tech friendly than Europe" is just a myth.
More topics included:
– Crowdsourcing and innovating – IBM does employ and leverage the BRIC creativity, eg. there are labs in Hong Kong, Johannesburg etc.
– Uffe believes in employee surveys, retention numbers, etc. as qualitative measuring of social software ROI – like that, numbers are easy.
– we have a lot of use cases and real pain points we can improve with social software in the enterprise – if we look close enough …
– he was quite critical of the name "Enterprise 2.0" – something I don't buy in, for me it's more than marketing hype, it's a useful mental shortcut, much like the Collaboration Agenda IBM is putting forth themselves
– I liked his take on industry focus and knowledge about specific processes – the "how can I improve how a company does this and that" is a very good starting point for discussion and helps "getting it real".

Q&A with Doug Heintzman, Director Lotus Strategy & Collaboration

We were talking about the market positioning of Lotus in contrast to Microsoft Sharepoint – something I won't comment on now, would I? Small wonder that he's seeing significant deficiencies of MOSS, and a lack of understanding and commitment to the social web in the enterprise.
Small wonder too that he sees Lotus as a system of systems much better positioned, offering customers the flexibility and scalability they need (and that allow for the tailoring of best of breed functionality – think Open Source integration et al.).
Well, there were some more meetings and encounters – but this will have to do for now, I want to visit the labs one more time. And I sure don't want to be late for tonight's treat, meeting with old and new friends (did I say that it's great to put some real people behind all those twitter acquaintances?) and enjoying the rollercoaster rides.