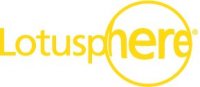 IBM and Lotus are definitely treating press, analysts and bloggers the same way, the same work environment, the same access to key persons and interview opportunities. Indeed I am sitting next to Gartner people, eating the same dogfood they are.
And yes as I am writing this I am sitting next to real journalists™ too in the press and blogger's room – each one of us tapping silently away on our  notebooks. No communication or socializing so far with the odd blogger and his sticker-tattooed laptop …
But joking aside – I am really happy about the opportunity to participate in this, it's an information avalanche waiting to swallow me, err great information and industry insight at my fingertips.
Key topic of the briefing was the IBM Collaboration Agenda (official announcement), a lens & funnel to engage the partner community making them partners in innovation. Four industries are initially the object of this agenda: banking, insurance, healthcare and government where transformation is dearly needed. The task is to translate technology into the language of business …
LotusLive Labs are another hot topic – the cloud is real and it's here to stay. IBM Research & Lotus joining forces to leverage and provide a pipeline for innovation in the cloud. Labs are designed as a platform for an ecosystem, an open integration environment where it's possible to test and deploy quickly (they're planning to do cool things like indexing and tagging, find ways to design scripted workflows in a cloud app etc.)
Mobile is a big word here too, for Lotus it's not an aditional thought, it's rather fully integrated into the thinking. I wrote about RIM being a partner already – they showed social software, yes but mobile solutions from Lotus will be done for all platforms and meaningful players (Android, no mentioning of Windows Mobile, alas, surprise).
Project Vulcan is another big topic, a roadmap, vision and blueprint for the future of collaboration – building on and leveraging existing investements, with a focus on developers. See the official announcement too for a start, as I am collecting more data points as well. Here's what Lotusgeek notes:
It is a sneak peek at the evolution of collaboration. Extends the products we have now, focuses on continuity, convergency, innovations, new opportunities. It is a vision for the evolution of the Lotus business products. Loosely-coupled architecture. Consistent interface across all client form factors, including mobile and browser. Sets the stage for next generation of apps. Embraces open programming model, REST apis, widgets, mashups, and HTML5. Supports SSO, search, etc.
Well, they say Lotus acts upon what customers tell them, ie. be more flexible, more open. Project Vulcan focuses on (a knowledge worker's ) context – be it content, people, business processes et al. And the sources of these can lay inside or outside an organization, and Vulcan is designed for integrating both business and personal information, for integrating on-site with cloud-based services, mobile access or not (while they hinted at cool mobile functionalities coming, like e.g. location based services). Overall it's a step into the right direction, being more people-centric than application or business process centric, that way supporting the many individual ways people have to get their jobs done.
The briefing offered an opportunity to ask questions, I made some notes on the odd twelve inquiries but I still need to get my head around how to systematize and organize the answers into a blog post. And I have some personal observations and thoughts to share too. But I must hurry now, unless I will be late to the press, analysts and blogger's evening event (socializing with free drinks I guess and hope …).