Björn is asking what the Return on Investment of Collaboration is and writes up some neat (and programmatic) questions to systematize the discussion:
1. How to conceptionalize, realize and gain collaborative performance?
→ discussing the value chain of an collaborative enterprise, the economics of sharing, processes of open innovation
2. What are the main drivers for collaborative advantage and efficiency?
→ discussing communications, processes, infrastructure as well as (self-)management
3. What are the key values of a collaborative culture?
→ discussing the key characteristics as open, transparent and decentralized as well as others – and how to realize the cultural change in a multinational environment as we have in a lot of European companies
4. How to introduce and adopt social and collaborative approaches within the company?
→ discussing the steps of adoption especially in the context of multinational companies
Like him I notice that Enterprise 2.0 discussions fall back to the topic of ROI quite often, seen this many times before and again at the Cologne Enterprise 2.0 FORUM. So trying and exploring the subline of the upcoming Enterprise 2.0 SUMMIT ("Improving Collaborative Performance") with these questions is a good idea. I won't dive into all of them now, let's look at number one first and take a first stab at why it's collaborative performance we're after.
To me, thinking about the economic measures and dimensions of Enterprise 2.0 is important. That said, I can also say that thinking about ROIs isn't important for the reasons one might assume at first: It's much like with "strategic planning" where the actual plans you derive are much less important than the process of planning (and the mental exercises you get when doing it up-front …) in itself. Two points to discuss:
Defining and measuring an ROI of collaboration is both easy and hard – getting and measuring numbers is as easy as getting relevant numbers is hard.
Thinking about ways to conceptualize ROI holds benefit, more than having an actual ROI definition.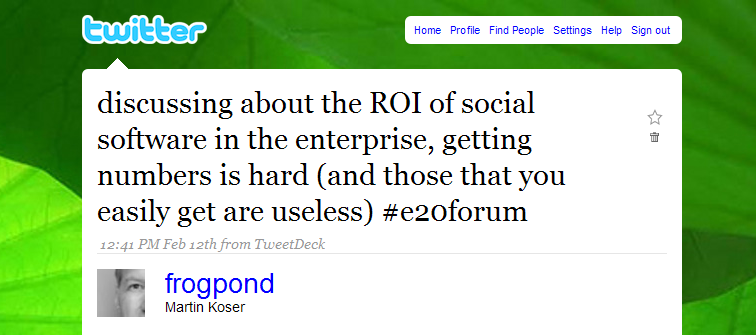 What does this mean? Let's start with the definition part, Return on Investment that's the thing. Nice and easy way to calculate a range of possible alternatives and help in deciding on what to do, huh? But that definition is utterly flawed when we're dealing with social software in the Enterprise. What does I stand for? Investment, i.e. basically all the Euros and Dollars we're pouring into our Enterprise 2.0 endeavours. But wait, we're much smarter than this, aren't we? After all, we know or sense that buying and deploying IT systems (some of those are even open-source to make things even more complicated) is the easy part, and the bigger part is the soft stuff, like e.g. enabling and supporting collaboration. So we may start to add the hours of the people involved in our projects, and continue to count in all the costs that we're guessing (when they write blog posts or edit wiki pages they don't do any actual work, huh?), all the time spent collaborating … Yikes, it's almost as hard to measure the "investment" as measuring the "returns" of social software in the Enterprise is. This is flawed too as this social stuff can exhibit nice benefits in areas that don't seem to be related, that are too far in the future or that rely on extrapolations of things – things that are moving way too fast. There's something to learn from neighbouring areas: Measuring improved knowledge retention isn't easy – the KM guys are pondering this space for more than 20 years – thus, measuring the effects of a more collaborative corporate environment and a knowledge sharing culture that we may get via Enterprise 2.0 can't be much easier …
Yet there are very good reasons for discussing measures and concepts for "collaborative performance" – we need to do some planning to know what to do, to get a sense for the environment we're in and where we stand, what to do to progress and what actions to take when we sense that we're drifting off from our course. And we need to define and point out our successes, if only to bootstrap and fund the little experiments we started off with (did I mention that calculating ROIs is hard when the I is small? Little lightweight pilot projects make it quite hard to calculate reliable numbers …).
Now, in the past I sometimes argued along the lines of "Please forget about ROI calculations, ROC is much more important", arguing that the "Return on Change" is what we should look for in Enterprise 2.0 (One word as a focal point for change – Collaboration and Cultural change and developing collaboration capabilities). But it doesn't take you far in the corporate boardroom (nor do other measures like the RoNI – Risk of not Investing that is plagued by overuse – how often have CEOs heard that "now's the time to act or else"-thing? Business decision makers are wiser than that).
Whatever, the leading question "How to conceptionalize, realize and gain collaborative performance?" is giving us lots of things to discuss. We've not even scratched the surface (yes, it may lead us to discuss the value chain of an collaborative enterprise, the economics of sharing, processes of open innovation, …), use cases and "arenas for social software in the enterprise" and different takes on systematization. In the end it's necessary to do the deep thinking to be prepared when trying to convince people about the benefits of Enterprise 2.0.
(Now onto posting Euan Semple's expert profile over at the Enterprise2Open blog, later on I will dig into the new McKinsey Quarterly article "Six ways to make Web 2.0 work". Both deserve a long post too.)