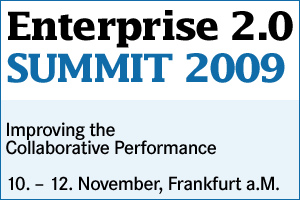 Today's the second day of the E20SUMMIT conference, after yesterday's full information blast (I counted over 500 tweets alone during the afternoon), it's going to be a "social" day today, not least because there are three open space slots reserved for the afternoon.
These Open Spaces combine and bring together the people of track 1 and 2, ie. those that focussed on the strategic implications of Enterprise 2.0 and those that were looking for hints, lifehacks and experiences in the "Best Practices" track.
But before we're venturing into the discussion space there are three more talks and panels on the slate, I am sticking to track 1 again, just like yesterday:
08:30 – 09:25 Discussion: Organizational Schemes for the Enterprise 2.0
The assumptions are sweeping – the next generation of co-workers that grew up with social tools will want a "social environment of work that reflect(s) the social context of the Web" (Gary Hamel). Social and enterprise experts will discuss the controversial question of how future work places will be organized.
Discussion: Dr. Peter Schütt, Leader Knowledge Management & Social Networking Solutions, IBM Deutschland, Mark Masterson, Enterprise architect, troublemaker, CSC Computer Sciences Limited
09:25 – 10:10 Discussion: Collaborative Infrastructures & Unified Communication
There is a strong connection in the underlying themes between cloud computing, unified communication and collaborative infrastructures. How this fits together will be addressed by this panel discussion of industry experts.
Discussion: Kai Gutzeit, Head of Google Enterprise DACH, Google Germany GmbH, Martin Buhr, European Business Director, Amazon Web Services, Simon Wardley, Software Services Manager / Cloud Computing Strategist, Canonical Ltd. Moderator: Wolf Ingomar Faecks, Managing Director Germany, Sapient GmbH
10:40 – 11:35 Enterprise 2.0 is more than Wikis & Blogs: BPM 2.0, BI 2.0 & CRM 2.0
Moderator: Mark Masterson, Enterprise architect, troublemaker, CSC Computer Sciences Limited
Then, the first open space is set to start, with the goal of collectiong issues and recommendations of the participants re: Enterprise 2.0. It's called a "Market of Ideas" on how to proceed with the initiation, implementation and adoption of Enterprise 2.0 projects. Let's see how that works out, we'll have time to reflect this first round at Lunch I guess.
In the afternoon, there will be two more open spaces:
13:00 – 14:30 Open-Space: Enabling Enterprise 2.0 – Roundtable discussions (ie. we will work in small groups)
and
15:00 – 16:00 Open-Space: Enabling Enterprise 2.0 – Presentation of Results (ie. we all will need to track down a designated presenter)
Shouldn't be too hard, I assume that we'll develop some cool ideas this afternoon, definitely looking forward to the discussion open space ..