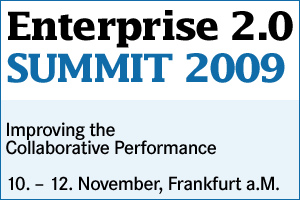 Today's day one of the E20SUMMIT conference – after yesterday's small circle masterclass with Dion Hinchcliffe. This means that most people will show up for the first time today, meaning that I must hurry up to get down to the reception area to meet 'n greet some friends.
Anyway I wanted to give you a brief rundown of my plans for today, listing up the talks and panels on the slate. First up and plain mandatory, it's the keynote by Oliver Marks with two well known Enterprise 2.0 protagonists on panel – Bertrand Duperrin and Joachim Niemeier will discuss the internal value propositions for the uptaking of Enterprise 2.0:
The keynote panel discusses what needs to be included in an internal roadmap, as the core project specification and execution plan. It will address different case histories of successful strategic roll-outs, as well as giving insights from an international project at Sony PlayStation from a variety of specific European viewpoints.
With the following parallel panels it's a hard choice for me – but while I am definitely interested in best practices I decided to hit track 1 today, ie. the one focussing on Enterprise 2.0 strategies. Sadly this means I'll have to skip some panels and sessions moderated or held by friends – on the other hand they can give me an account on what they've said anyway and I can do them a favour by reporting my collected observations from track 1.
So what's up for me in track 1:
11:00 – 11:55 Measuring Collaborative Performance: Due Diligence for Enterprise 2.0
Many Enterprise 2.0 projects are faced with the question of how to measure the success of the initiative. The panel discusses the concept of collaborative performance and its operationalization as a way to determine and quantify the achievements of E2.0 projects.
Speaker: Kjetil Kristensen, Principal Consultant, Kristensen Consulting
11:55 – 12:40 How-to Leverage the Power of Feedback and the Law of Participation
Participation as a means of gathering feedback from all parts of the organisation is a key element of Enterprise 2.0 projects. This panel focuses on how to best achieve this. Experts and practitioners discuss project structuring and feedback mechanisms, plus the pitfalls to avoid.
Speaker: Julien Le Nestour, IT Innovation Manager, Schlumberger, Moderator: Lee Bryant, Founder and Director, Headshift Ltd.
14:00 – 14:55 New Forms of Leadership in Decentralized Organisation
Enterprise 2.0 initiatives share knowledge more widely around the enterprise, so leadership through superior knowledge is less relevant. This panel discusses new forms of leadership for knowledge-based organizations.
Speaker: Lee Bryant, Founder and Director, Headshift Ltd., Moderator: Bertrand Duperrin, Senior Consultant, blueKiwi Software
14:55 – 15:40 Discussion: E2.0 Implementation Strategies
From purely bottom-up, towards a top-down deployment, and gradually an integration of both – different E2.0 practices show a wide variety of implementation strategies. Each strategy needs a variety of evaluation methods. This panel compares differents approaches to measuring results.
Discussion: Dr. Frank Schönefeld, Chief Operations Officer, T-Systems Multimedia Solutions GmbH, Bertrand Duperrin, Senior Consultant, blueKiwi Software, Moderator: Simon Wardley, Software Services Manager / Cloud Computing Strategist, Canonical Ltd.
16:00 – 16:55 Collaboration Challenge: Preparing Your Workforce
For the majority of people in the enterprise, the words "Enterprise 2.0" means nothing. Telling the staff about tools and technologies will just get them thinking that it's some IT initiative they can ignore. This panel discusses ways to explain the value of contributing content, commenting on other people's work, leveraging the 'friend of a friend' network, developing internal weak-tie-communities of colleagues.
Speaker: Gil Yehuda, Independent Analyst, GilYehuda.com, Moderator: Simon Wardley, Software Services Manager / Cloud Computing Strategist, Canonical Ltd.
16:55 – 17:40 Discussion: Enterprise 2.0 in European Corporations: A Multi-Cultural Challenge
In contradiction to the U.S., pan-European companies are facing specific issues in regards to the different cultural backgrounds of their workforce. This panel discusses best practices and strategies to overcome these multi-cultural challenges for enterprise-wide adoption.
Discussion: Mark Masterson, Enterprise architect, troublemaker, CSC Computer Sciences Limited, Dr. Frank Schönefeld, Chief Operations Officer, T-Systems Multimedia Solutions GmbH, Bertrand Duperrin, Senior Consultant, blueKiwi Software, Emanuele Quintarelli, Partner and Enterprise 2.0 Strategist, Open Knowledge, Moderator: Craig Hepburn, Director of Social Media Strategy, EMEA, Open Text
I will continuously update this post with links to my blog posts covering these talks (update: can't do it, blasted away with tweeting and waving, plus the occasional talking), that said I am not sure if I can manage to cover all of them extensively – given that quite some channels are competing for my attention and typing budget, Twitter is just a start. Whatever, it won't do any harm if some more elaborate posts will be added during the next days …