Reporting the talk by Prof. Dr. Michael Koch, Universität der Bundeswehr München of the results of the SNS-Study ("Ergebnisse einer Best-Practice-Studie: Erfolgfaktoren bei Kooperationssystemen 2.0") is hard. So I rather forward you to his blog, site and all. Anyway, for some instant information you can check out my writeup of the pre-conference interview ("Enterprise 2.0 implications and digital natives").
Now it's up to the most interesting part of the afternoon, see my (racy but tongue in cheek) tweet down below. But I guess this is really one thing conferences need to integrate to stay relevant (see the Sweettt podcast epsiode "Conversations as The Future of Conferences" for more on this):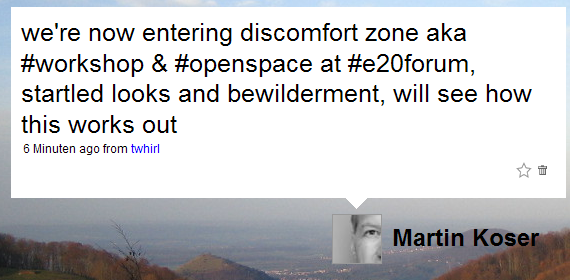 Well, I'm in the track that's collecting thoughts and ideas on management involvement in Enterprise 2.0 (well, how to convince your CxO). I am feeling a bit awkward as I don't want to spoil the emerging ideas of the group with my views …
Well, anyway – some collected thoughts by the group, alas, these are only quick and brief notes:
Quick wins (or how to win management sponsorship quickly): We'fre not alone, there are cases, people in the know, consultants (hint …), it's about time to act now and one of the best: arguing with usages for existing and pressing problems
Challenges (or what gets into the ways of our ambitions with Enterprise 2.0): fear in all flavours, seen (and dreaded) need to change management's understanding and role – we don't want to change and we fear democracy and transparency
Supporting lines (or the surefire ways to convince your CEO): Return on Investment (both in terms of more turnover and/or reduced costs), CxOs must act as role models, innovation and knowledge management benefits, competitive advantages, leveraging the distributed potentials of all our employees, …
The other groups tackled issues like e.g.
technology – no need to talk about this, all things Open-Source vs. Closed-Source et al.
implementation (well, rather early stages of getting Enterprise 2.0 out there)
motivation – or how to get employees to use these systems?
integration – how can be fit it into existing infrastructure (of any kind)
role of IT
role of moderation in Enterprise 2.0 (well, turned out that they dealt with nifty details of organizational culture in the context of E 2.0 at last, plus a collection of sensible roles and personas to have in E 2.0 projects)