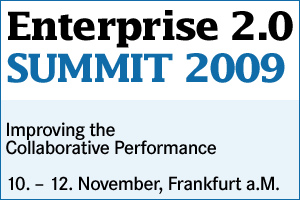 Next week, Wednesday and Thursday there's the Enterprise 2.0 SUMMIT in Frankfurt upcoming – this is one of the pivotal events for the Enterprise 2.0 community in Germany and Europe. Together we'll be preparing and building deep understanding of the potentials of web technologies in corporations and we'll be exploring and analyzing the challenges to organisational structures and processes.
To support this the SUMMIT combines panels, case studies, best practices and workshops in two high-energy days. Especially the best practices should be most interesting, as discussing with peers and innovative corporate users is much more valuable than sitting through vendor or consultant's presentations (this ain't true for my very own talks, obviously).
So I think that this is a great primer for executives wanting to learn what, where and how to start with an Enterprise 2.0 initiative. The two days spent are a good investment, register here and be part of the event.
And I've also got a special treat for you – tell me in the comments (or trackback from your very own blog …) your views on Enterprise 2.0 and Collaborative Performance and why you want to take part in the event. I've still got some blogger tickets to distribute and you might be lucky and we can meet in Frankfurt …