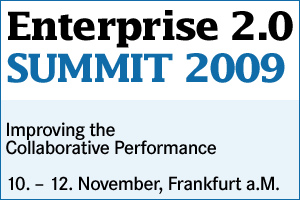 This coming week it's showtime finally.
It's the week of E20SUMMIT, ie. a week packed with discussions, information and "peer talk" on Enterprise 2.0. I know that some of my readers will be there, but I don't think I can manage to have a beer with each of you, sorry about that, but I want to remember the event 😉
As you probably know I was involved in the "configuration" and set-up of the event, and while I haven't been too bothered with the organizing aspects of it, I've seen that there's an immense amount of work and engagement that was invested. Thomas Koch and his team at Kongressmedia, namely Steffi, Björn and Kai have worked countless hours to realize this event. And I think now's the time to thank them for envisioning a great event, way in advance they've seen and believed in the potentials of the social web in the enterprise and they've built and supported the community in many ways – not alone in Germany but on a European scale as well.