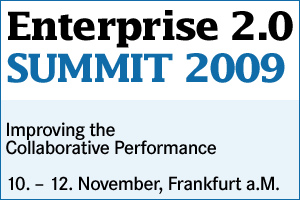 OK then, it's about time to look back on last week's E20SUMMIT – and as community manager of the event it's natural to start with the people that made this event special. This includes the team behind it all, ie. people that have worked to make this real (and who have already announced the date for the E20SUMMIT 2010, so save the date Oct. 26-28, 2010).
But even more importantly, this means the community that gathered in Frankfurt. I think we've had both lots of fun and an insightful conference. It was great to have you on board, thanks for your attention and interest and see you next year!
From my personal perspective I can say that I really enjoyed this get-together of the Enterprise 2.0 community in Europe. Add to this some global scale thought leadership (Dion, Gil, Oliver, Kjetil, Lee and Simon – that's you) and it was poised to be a great conference. The field of Enterprise 2.0 as a whole is still evolving and this was the first time I've met Gil Yehuda and Oliver Marks in real time, though I've been following their writings since long and we've connected virtually before.
This is true for a lot of the people present in Frankfurt too – even for the community manager there's a lot of first-time meetings (sometimes based upon a history of long-time blog reading and/or Twitter connectivity) and new-found blogs and friends. This includes folks like Rickard and Gustav from Sweden (see their blog), Torill from Norway, Mario (blog) and Massimo from Italy and Sean from London (who happened to be both in Varese and in Milano for Emanuele's Enterprise 2.0 conference – yes, just like me and now we've met in Frankfurt for the first time, crazy, huh?).
PS. Let's not forget the people who followed the conference from remote, eg. on Twitter or on the live-stream. It's been quite a crowded back-channel at times, thanks to people like Susan Scrupski, Ana Silva oder Robert Lavigne from Toronto 😉