Die CeBIT 2010 ist um und langsam treffen die Rückblicke und Einschätzungen ein. Da will ich nicht fehlen und schaue auf das erste WikiCamp am CeBIT-Samstag zurück.
Ob ich einen generellen CeBIT-Rückblick schreiben soll – ich weiß nicht. Zwar war ich schon seit Donnerstag in Hannover – aber zumeist auf der Webciety oder in der angrenzenden Blogger Lounge von t3n. Und da das dichte Programm – gerade auch der Global Conferences – einem kaum die Gelegenheit zum Durchschnaufen gab, vom reflektierenden Innehalten ganz zu schweigen, stellt sich nun die Frage was berichtenswert ist. Wobei – eines ist auf jeden Fall bemerkenswert: Die Webciety war der Ort an dem man sich traf, sie war der Anlaufpunkt für alle, die sich mit dem Social Web beschäftigen. Deshalb auch an dieser Stelle ein großes Lob an die Macher für die Plattform. Die Webciety war quasi eine Social Web Messeinsel, mit interessanten Themen und Gesprächen.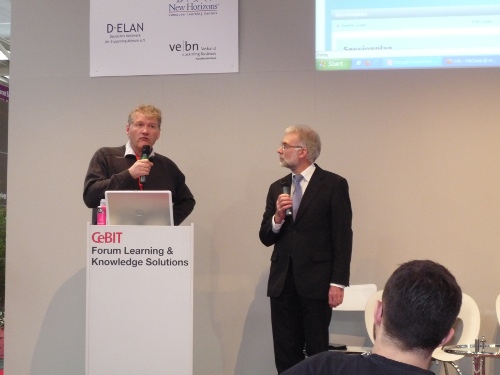 Dank der Webciety-Macher bekamen wir ja auch sowohl Räume für die WikiCamp Sessions als auch eine Plattform um das Konzept des WikiCamps, bzw. von BarCamps generell, vorzustellen. Entsprechend machten wir dann auch die Vorstellungsrunde und die Sessionplanung "in the wild" und öffentlich. Und ja, es wäre kein WikiCamp wenn wir das OpenGrid der Sessionplanung nicht gleich im Community-Wiki eingetragen hätten …
In der Tat war dann auch das OpenGrid ähnlich gut gefüllt wie die Sessionräume – wir haben denn auch den konkreten Ablauf während des Tages sehr flexibel handhaben müssen, ähnlich flexibel wie wir das Problem gelöst haben dass der Beamer zu tief stand …
Ja, auch dafür sind die Saftboxen von Walther's sehr gut geeignet – Danke Kirstin für deine Unterstützung. Und im Foto oben sieht man auch sehr schön die WikiCamp T-Shirts, bedruckt von Printequipment.
Die einzelnen Sessions wurden zum Teil in Buzz und Wave, zum Teil im Wiki mitgeschrieben und -dokumentiert, spannend sind u.a.
Mittlerweile kommen auch die ersten Blogposts von Teilnehmern herein. Unter anderem hat Matthias hier seine Folien zur Session "Einführung von Wikis in Unternehmen" gepostet – danke dafür (und ja, das Lob "BarCamp, back to the basics" höre ich gerne):
Ein Tisch, ein paar Stühle drum und ein Beamer. Mehr braucht man nicht und genau so war das Wikicamp.
Es wäre doch schön eine solche informelle und produktive Zusammenarbeit über den Tag hinaus – sprich auch nach dem WikiCamp – hinzubekommen, nicht wahr? Genau daran "krankt" es ein bisschen bei vielen BarCamps offenen Veranstaltungen – eine nachhaltige Vernetzung wäre wichtig ist aber schwer umzusetzen. Mal sehen wie wir das mit dem WikiCamp hinbekommen, in jedem Fall muss das ja keine einmalige Veranstaltung bleiben.
Persönlich habe nicht so viel mitschreiben und -arbeiten können wie ich wollte (und auch meine geplante Session zum Thema Wiki Usability und Design musste ausfallen). Zum einen weil ich nebenher einige organisatorische Dinge stemmen musste – zum anderen weil ich während dem dritten und vierten Timeslot mit Dion Hinchcliffe eine Art Fireside Chat auf dem LKS Forum zu Enterprise 2.0, Adoption und Implementierug (und ja, auch zu Google buzz) hatte.
Am Ende des WikiCamps haben wir beide dann auch ein kurzes Executive Summary auf der Webciety gezogen, sprich eine Zusammenfassung der Ergebnisse des WikiCamps und unseres öffentlichen Geek-Talks Fireside Chats.
Thanks, Dion – always a pleasure!