There's a myriad of posts on OpenSocial already and I know that I'm a latecomer to the party. Yet I will try to put down some observations and notes, if only because this has rattled the plans for my planned BarCamp session this weekend. I have to update my slide deck now, thanks Google. OK, most of the stuff I've written before remains valid and/or got valified through this move (see e.g. Portable soziale Netzwerke, and my post on NoseRub, german posts also touching on big hairy questions like privacy of data).
Some observations from a strategic / business point of view:
Google is proposing an open approach with the goal of integrating a variety of networks – they are not building up yet another social network. This is a platform approach, not a product or services innovation.
And this is also a cool business model innovation move – Google is opening up the social networking space to the many developers outside with a standard platform, i.e. they have learned the Facebook lesson and expanded on it – turning the table for Facebook in effect. Now who's leading the charge in the web OS game …
Google understands that there's more value to be gained from a shared ecosystem and from the long tail of distributed communities, than from a walled garden even if it's big. There's no need for an one and for all über-network, but for an easy way to integrate the many existing social networking sites (and communities of people in fact).
Nice before/after picture: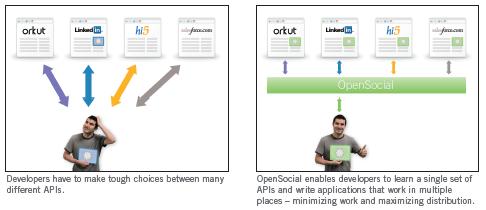 Some snippets (via Richard MacManus, …):
OpenSocial is not a social network itself, rather it is a set of three common APIs that allow developers to access the following core functions and information at social networks:

* Profile Information (user data)
* Friends Information (social graph)
* Activities (things that happen, News Feed type stuff)
For developers there are lots of benefits. They can build an app that easily works across all the OpenSocial partners. And they can use normal HTML, Javascript and Flash – instead of the proprietary languages Facebook forces developers to use.
You may also check out the Google guys view on all this, here at the all new OpenSocial API blog ("The web is better when it's social")
Then, for those with more time on their hands there's also this one-hour explanatory video:
And here's a little video by Marc Andreesen of Ning explaining the concept of container and apps:
Find more screencasts like this on Ning Network Creators
Interested in more analyses? Go visit Techmeme and bring lots of time. Or take my short list of cool posts, starting with Jeremiah Owyang of Forrester ("Explaining OpenSocial to your Executives"), this is a good short status report, short excerpt:
What is Open Social?

Google says: "OpenSocial provides a common set of APIs for social applications across multiple websites. With standard JavaScript and HTML, developers can create apps that access a social network's friends and update feeds."

Translation: Social Networks, and other websites (we can call them platforms or containers) can let mini-websites (applications or widgets) to be shared and interact with existing online communities (social networks, social graphs, communities).
Jeremiah also expands on the opportunities this offers, namely in the community building space (Efficient development, harness existing communities, open standards help long term, your existing applications become social, future brings social to your website). Recommended analysis, gets you up to speed quick.
Then there's Anil Dash of Six Apart ("OpenSocial, Killer Apps and Regular People"), on why the opened social graph can help people in their networked lifes:
This gives regular people on the web more control over the social networks and applications they use.
Interesting times ahead.