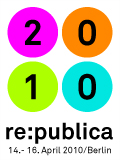 Noch etwas mehr als 34 Stunden – dann ist es soweit: re:publica 2010 und ich bin now there. Wie immer in der Kalkscheune, wieder im Friedrichsstadtpalast und zum ersten Mal im Quatsch Comedy Club (sic!). Und wie immer mit ganz viel Internet, seiner Zukunft und Gegenwart und seinen Gestaltern. Ja, Menschen machen Konferenzen aus – und damit meine ich auch die Veranstalter hinter der re:publica – newthinking communications und Spreeblick, die zusammen mit den Partnern, Sponsoren und Unterstützern ein Riesenprogramm auf die Beine gestellt haben.
Nun ja, auch der beste Multitasker verzweifelt angesichts rund 150 h Programm, hofft stattdessen auf gutes Wetter und ruhige, persönliche Gespräche in der Frühlingssonne und mit einem Tazpresso.
Auf der anderen Seite wäre es schade wenn die Perlen übersehen und verpasst würden, entsprechend ist eine subjektive Programmauswahl aus dem vollen Programm sinnvoll und notwendig (offensichtliche Standards und Pflichtprogramm sind nicht berücksichtigt):
Mittwoch 14. April
11:00 QCC – Google Buzz for the rest of us
12:00 KS_GS – Session: La Résistance – Was Kollaboration und Coworking mit selbstbestimmem Leben zu tun haben
12:30 KS_GS – Session: Slow Design. – Oder: Wie Designthinking (vielleicht) die Welt retten kann
13:00 DSP – Session: Per Anhalter durch das Enterprise 2.0 – Kafka trifft Douglas Adams trifft organisatorische Wirklichkeiten (hier wird das Lotus JamCamp eröffnet, mehr dazu weiter unten)
14:00 QCC – Lotus JamCamp Smarter Work – Vorstellung des Jams zur Arbeitswelt von heute und morgen, gemeinsame Entwicklung und Diskussion der Themen – läuft mit wechselnden Themen und Schwerpunkten bis 17:00
15:30 FSP – What's Next: Wie die Netzwerke Wirtschaft und Gesellschaft revolutionieren (Peter Kruse)
Donnerstag 15. April
10:00 LJC-Lounge – Session: Linux als Desktopalternative in modernen Büroumgebungen, den Wechsel wagen – ist klar, oder?
14:00 LJC-Lounge – Session: Wie muß eine moderne, kollaborative Webseite aussehen? – Open Innovation und Crowdsourcing von Ideen, Konzepten und Designs für das neue Kompetenzzentrum Kollaboration an der Uni Koblenz (das geht dann in den Online Idea Jam über bzw. bereitet die Prototypentwicklung während der Lotus JamCamp Bustour vor …)
16:00 KS_KS – Find your space: Smarte Tools für die mobile Arbeitswelt – iPhone Augmented Reality App für den mobilen Wissensarbeiter
Freitag 16. April
11:00 QCC – Session: Google-Werkzeuge für Wissensarbeiter: – nach der buzz Session von Mittwoch hier nun eine Google Apps Live Demo Sesssion.
16:00 QCC – Session: warum das internet scheisse ist – ja, eigentlich auch ein (wirrer?) Pflichttermin
besonders aber 10:00 – open end LJC-Lounge – den ganzen Tag ist die Lounge ein Anlauf- und Treffpunkt für das Thema "Arbeitsplatz der Zukunft" und Smarter Work. Darin findet sich eine interessante Vielfalt an Themen, u.a. plane ich selbst zusammen mit Arnd Layer von IBM eine interaktive Workshop-Runde zu gestalten bei der wir im Spannungsfeld von organisatorischen Wirklichkeiten und Enterprise 2.0 Möglichkeiten spannende Ideen sammeln und entwickeln wollen. Wer Interesse hat – Kontakt aufnehmen oder um 15:00 in die Lounge kommen … oder die Fortsetzung dann online im Idea Jam mitgestalten.